Home | About Me | Jewelry Designs | Gemstones | Mineral Specimens | Mine Info | Orders | FAQs | Contact | Links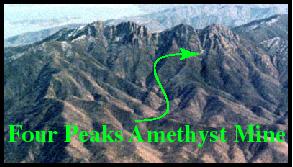 Approximately 60 miles northeast of Phoenix Arizona, high on a rugged mountain called Four Peaks, is located one of the United States premier amethyst locations. From a private claim located at the end of a steep and rocky jeep and foot trail come brilliantly colored amethyst crystals. Spanish explorers who passed through the region in the 1500's are believed to have gathered amethyst from this location; some of which made its way into the Spanish crown jewels.
Ugly hematite encrustations on fist-sized crystal points hide vibrant purple amethyst hearts. Like other gem locations, amethyst from this mine varies greatly in color and quality, but the best material displays the rich deep reddish-purple color characteristic of the highly prized Siberian gems. Careful selection of gem material and skillful cutting results in gems of exceptional beauty.
After many years of inactivity, the Four Peaks amethyst mine was recently sold and reopened by a joint venture between Commercial Mineral Co. and Four Peaks Mining Co. Mike Romanella of Commercial Mineral Co., Scottsdale, AZ, displayed thousands of carats of finished gems at the 1999 Tucson show. To learn more about the Four Peaks amethyst mine see "Uphill Battle," an article by Mark Lurie in the May, 1999, issue of Lapidary Journal.